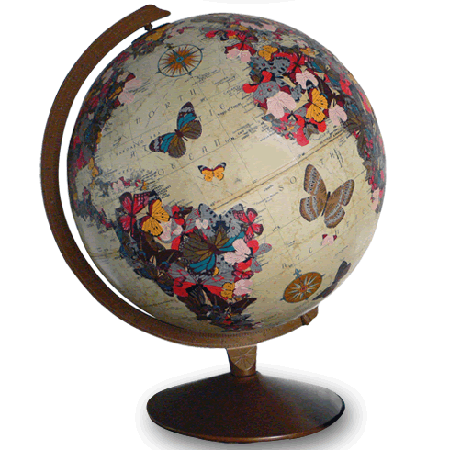 Who wants another cool are project to add to their repertoire? I'm always on the look out for cool DIYs, so I got really excited when I found this one. I haven't found a craft project this unique and a while. It's also a nice craft you can do with kids.
Decorating globes is a cool project that's starting to pick up steam on Pinterest. The spherical nature of globes makes the decorations you make with them really stand out, because they're not on a boring flat surface. You can also just turn it whenever you want to change how it looks, making it a great centerpiece for an inn table. Today I'll be telling you about three globe projects in particular.
1. Cover The Continents
Can't stop looking at the article image? Me neither. Covering the continent in stickers or decals is one of the most aesthetically pleasing things you can do with a globe. The mapping of the continents gives you a space you can fill in easily, like a coloring book.
The familiar shape of the continents create a cool effect with they're covered up too. If you use a wide range of colors, spinning the globe turns the average looking collection of countries into a beautiful blur. Where's France? Under the orange and black monarch!
2. Paint The Ocean
You can focus on negative space if you don't like the idea of covering up the continents, Pick an eye catching color and carefully change the color of the ocean. You can use a hairdryer to expedite the drying process, then take a metallic sharpie and fill the former waves with words. Thee only thing better than making the ocean your own is filling the world's oceans with quotes.
3. Fill The Core With Stars
If you want a simpler DIY, you can just fill your globe with lights. Carefully take the globe off it's axis. Take a box cutter and carefully cut the equator in half. Slowly go over the earth with a hole puncher, and fill the bottom half with lights. Close the globe and put it back on it's axis, using something like hinge and hook to keep it closed. Now whenever you spin your globe, lights will dance around your room.
Please reload